In this series, Marissa Meyers retells some of our favorite childhood fairytales with a uniquely futuristic twist.  Let me preface this by saying that I loved loved LOVED this series. I have been putting off writing this review because I was having a hard time trying to put all of my excitement into words. Whenever I started talking about this series, my explanations came out in squeals, grunts, and all sorts of incomprehensible noises. This series was really fun and completely caught me off guard. I was not expecting to love it so much.
There are currently three books, Cinder, Scarlet, and Cress, in the series and a companion novel Fairest that provides a different point of view. This review does not include the companion novel as I will be reviewing that separately.
With that said, let's dive into the books.
The first book in the series is Cinder. Like the name implies, this book is a retelling of the classic tale of "Cinderella" except Cinder is a cyborg.  She lives with her stepmother and her two stepsisters. Cinder is a renowned mechanic, who slaves away for her stepmother. There is a deadly plague that is terrorizing the world and people are desperately trying to find a cure. After Prince Kai asks her to fix his droid, Cinder becomes entangled in intergalactic politics that can change the fate of the universe as she knows it.
This book was a very fast read. I got sucked in from the beginning and enjoyed every minute of reading the book. There was action, suspense, romance, and mystery, basically everything that makes a good page turner. I absolutely loved Cinder as a character. She was smart, resourceful, and independent, while also being vulnerable. I gave it a solid 5/5 stars.
Next, Scarlet is the retelling of the story of "Little Red Riding Hood". Scarlet lives on a farm in France with her grandmother. Her grandmother has been missing for two weeks and Scarlet is trying everything to find her. She meets a street fighter named Wolf who unlocks secrets about her grandmother's whereabouts and more. Their story actually becomes intertwined with Cinder's story becoming different parts of one cohesive plot. I absolutely loved how the two stories connected. It is very well written and creative. This book was my least favorite in the series because the beginning was a little slow for me. However, the ending left me excited for more. I gave it 4/5 stars.
Cress is the third installment in the series and it is based off of the story of "Rapunzel". Cress is stuck in a satellite orbiting the Earth for many years. She is an amazing hacker and programmer. Her story becomes entangled in the stories of Cinder and Scarlet in the beginning only to be separated from them later. I can't say much more without spoiling the first two books, so I'll just leave it at that. This book was a very exciting read. A lot of loose ends start to get tied in this book, while some new problems are also introduced. The book reminded me of the movie Tangled, which is one of my favorite movies. The dialogue between Cress and her love interest was very reminiscent of Flynn Ryder and Rapunzel, which made me thoroughly enjoy reading it.  Overall, I gave this book 5/5 stars.
This series is amazing and I can't wait for the fourth book Winter to come out this winter.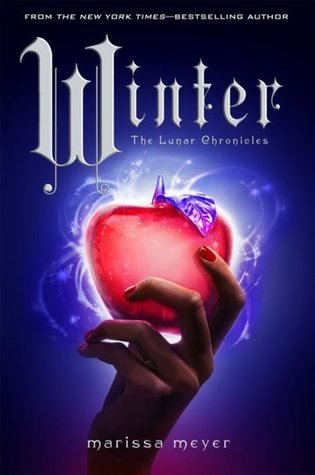 If you're looking for a fun young adult sic-fi book with fantasy elements, this series is perfect. I don't always read sic-fi books and I often take a while to get through them because I start to lose interest. That wasn't the case with this series. I wouldn't classify this as a true sci-fi book, but it definitely has elements that sic-fi readers will enjoy. I loved how the book retells stories that are so nostalgic to us in a way that is completely different from the original story, while still having the base plot of the story woven in. It even has little excerpts from the original texts of the stories inserted before each part of the book, which I really enjoyed. You have to pick this up and read it for yourself to truly understand how beautifully written this book is.